Access free training to make your managers better leaders
Not all managers are born leaders. Check out this collection of 6- to 10-minute training videos designed to help you build a leadership team that keeps your workforce engaged and motivated.
Discover how this breakthrough online training tool will help you: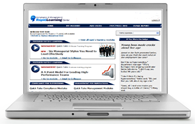 Respect everyone's time – each leadership training program is 10 mins or less

Easily deploy, track and follow up on training

Ensure that training delivers long-term results

Turn mundane staff meetings into high-value training sessions for your entire leadership team

Coach individuals in the exact moment of need – 24/7
Why are we giving you all of this for free? Because it's the best way we know to introduce you to the Compliance & Management Rapid Learning Center – a new approach to management and employment law compliance training.
More information for those who love the details…
The painful truth about training and talent development
In most organizations, department heads and HR people play a key role in making sure training happens — a dedicated training department is a luxury many companies just can't afford.
In theory, this makes perfect sense. High-level managers and HR people are well versed in critical areas such as leadership and employment law compliance … and they're keenly aware of the value of high-performance employees.
Problem is, even experienced professionals struggle with talent development. Some lack experience at building training programs and delivering training presentations. And to make matters worse, top managers are extremely busy. Finding time to build and oversee a comprehensive, ongoing training program is next to impossible.
The result: Talent development gets pushed down on the priority list and it doesn't get done – or it gets done in a half-baked way.
A proven way to make sure training happens
To help you overcome this challenge we invite you to check out the Compliance & Management Rapid Learning Center. It's a convenient, easy-to-deploy online training program specifically designed to help develop the compliance and leadership skills of managers and supervisors throughout your organization.
The heart of the Rapid Learning Center is a collection of 5- to 10-minute training programs called Quick Takes. These highly-focused modules work for two reasons:
Users love them because they don't take much time to watch — and because adults learn best when information is delivered in small, easy-to-digest chunks, and
Those responsible for training love them because they're convenient, easy-to-deploy and perfect for kicking off meetings and training sessions.
Take it for a test drive now and check out more than a dozen rapid learning modules (each less than 10 minutes), including:
A 4-Point Model for Leading High-Performance Teams
Handling Employee Complaints: What Every Manager Should Know
Unlocking the Power of Non-Monetary Rewards
How to Drain the Drama and Emotion from Salary Reviews
FMLA Certification: What Every Manager Should Know
Six Managerial Styles You Need to Lead Effectively
Leadership Credibility: The Fallibility Paradox
Plus … you'll be able to immediately deploy compliance training modules covering:
Progressive Discipline
FMLA
Retaliation
Sexual Harassment
Terminations
Complaint Investigations
And more
Other leaders are using the Rapid Learning Center to:
Ensure that managers and front line supervisors get the leadership training they need to effectively oversee their teams.

Protect the company from avoidable employee lawsuits by providing compliance training to those in a leadership role.

Develop new-hire orientation programs to ensure that new workers get up to speed quickly.

Communicate to people in their organizations that professional growth and development matters.
Think of the Rapid Learning Center as your personal online training library that gives you and your team 24/7 access to desktop rapid learning modules, meeting starters, articles and more.
You be the judge. Sign up now for FREE instant access. There's no risk. If after 30 days you're not completely convinced the Rapid Learning Center is worth the price your trial will expire automatically and there's no further obligation.
The Compliance & Management Rapid Learning Center is a great way to develop your knowledge base, sharpen the compliance and management skills of others on your team and improve your value to the organization.