Stephen J. Meyer: Talent Development Thought Leader
Most workplace training is broken
Far too many organizations view training as an event, not a process. They send their people to a conference or bring in a consultant for a few days. Employees get fired up and come back to their jobs eager to use what they've learned. The problem is, most adults forget what they learned before they can apply it to the job.
That's the underlying problem Stephen J. Meyer set out to solve when he established Rapid Learning Institute. Stephen understood that the key to ensuring that learning sticks is to break it down into small, manageable chunks. These chunks must be revisited on a regular basis, known as Interval Reinforcement, to ensure that the training concepts take hold and become habit. To that end he created Quick Takes – short, 6- to 10-minute learning modules that provide laser-focused training suitable for the modern adult learner. The Rapid Learning Institute now offers more than a hundred Quick Takes that give learners the training they need, when they need it and managers the tools they need to make training a manageable process.
Check out these videos to learn more about Stephen's key concepts: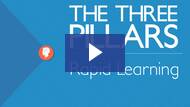 Rapid Learning
Today's short-attention-span workforce doesn't have time for traditional long-form training. They learn better when training is delivered in short, easy-to-digest burst.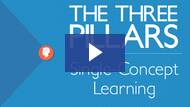 Single-Concept Learning
Teaching people just one, narrowly defined concept at a time vastly increases the likelihood that the learning will be absorbed, remembered and deployed successfully.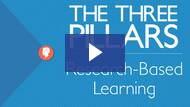 Research-Based Learning
Research provides authority and credibility, and it's a great way to trigger an "aha" moment that can lead to behavior change and better training outcomes.
More about Stephen J. Meyer
Stephen Meyer is CEO and Director of Learning and Development at the Rapid Learning Institute. Prior to starting the Rapid Learning Institute and its parent company Business 21 Publishing in 2002, Meyer was the Director of Publishing at The Hay Group, a leading HR, benefits and compensation consulting firm. At RLI he developed the concept for six- to 10-minute "Quick Take" rapid learning modules. Meyer received his MBA from The Wharton School at the University of Pennsylvania. He is currently a regular speaker with Vistage International, the world's largest executive forum group. His topic: How to Create a Talent Development Culture. Learn more about Steve's story. Listen to his interview from "Executive Leaders Radio".
Stephen J. Meyer on Google+
Twitter
Linkedin